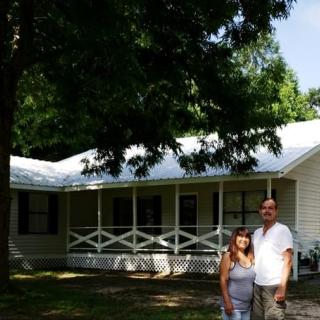 Veterans United will be the anchor - the rock - that maintains your excitement in buying a home. Home buying, to me, was an experience that could have been ripped from the script of Dante's Inferno, somewhere near Limbo. There was so much uncertainty, but Veterans United personnel, like Chad, Ryan, and others which were equally helpful, assured me that the train was on the tracks, and headed in the right direction. Heaping praise on them is nice, but what is truly important is to know that they are highly trained, and very good at their jobs! Trusting them is all that I needed to do in order for the weight of the experience to be lifted from my shoulders, and for joy to be the dominate force.When Veterans United pairs you with a professional, that person is there to serve veterans like like you, me, and in at least one case, their selves. I am currently moving in to my new home, thanks to Veterans United and their team. A special thank you to my realtor, Ceci Bonneckson as well.


This is our second home loan through Veterans United and both loan processes have been a great experience. We will definitely be reaching out to them for our next home purchase.


All I can say is my experience with Veterans United has been great from when I initially bought my home to when I recently refinanced. They were the only ones who would approve a home loan for me after I got divorced and I'm grateful for that. They make the process so easy and are always available if you have any questions or concerns. I'm lucky to have found them!


You're next!
Join the ranks of our 200,000+ Proud Veteran Homeowners nationwide.



We took some time to research lenders that specialized in VA Loans. And after many phone calls to different lenders it came down to working with a company that was local.
Our application process started right about the time that the world was faced with COVID-19, which forced the office staff to work from home. Even with this challenge, they never skipped a beat. Their client service maintained at an exceptional level. The online application process was very organized, instructions were very clear. And if you ever have a question, you can call them and always speak to your lender and not a call center. We can't thank our loan team Danielle, Danny, Kenny and Ryan enough for everything they did for us to purchase our forever home. We highly recommend the Killeen/Austin Texas Branch!




These guys know what they are doing

Chad, Ryan, and Kelly were great to work with. They were very professional and knowledgeable. The team worked well together. They answered questions and responded in a timely manner.
The only negative is not being aware of the loan fee before the process. The overall process was fast and easy to manage.



You're next!
Join the ranks of our 200,000+ Proud Veteran Homeowners nationwide.