Quick closing, very personable staff!!!




Please share with Chad and his team - to include Ryan Bray, that they have our utmost thanks. Incredible experience with Chad, and will recommend them to other veterans. Very, very well done. Thank you. Very respectfully, CDR (ret) Greg Riels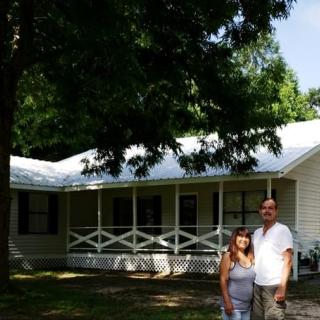 Veterans United will be the anchor - the rock - that maintains your excitement in buying a home. Home buying, to me, was an experience that could have been ripped from the script of Dante's Inferno, somewhere near Limbo. There was so much uncertainty, but Veterans United personnel, like Chad, Ryan, and others which were equally helpful, assured me that the train was on the tracks, and headed in the right direction. Heaping praise on them is nice, but what is truly important is to know that they are highly trained, and very good at their jobs! Trusting them is all that I needed to do in order for the weight of the experience to be lifted from my shoulders, and for joy to be the dominate force.When Veterans United pairs you with a professional, that person is there to serve veterans like like you, me, and in at least one case, their selves. I am currently moving in to my new home, thanks to Veterans United and their team. A special thank you to my realtor, Ceci Bonneckson as well.

I like how since you are military they easily have access to many documents and can quickly let you know about all your benefits and apply them to your loan. My lender did not let us leave anything on the table.

Chad was fantastic and lived up to his reputation. His partner Ryan was also extraordinarily helpful. These guys have this down!

If you want a smooth, well informed and stress-free closing, go with Veterans United. They are by far the best mortgage company I've ever used... and I've used them twice now. Before them, I had home purchases that were delayed at closing due to major surprises unveiled at closing. That's never been the case with VU. I've even had my parents use them and they were just as impressed. If you need a VA loan, there is no better company to assist you than Veterans United. Period.

As stated above, if they can and did. They can assist and guide anyone through their loan process.


You're next!
Join the ranks of our 200,000+ Proud Veteran Homeowners nationwide.
Veterans United in Austin has a great team! Communication is HUGE, and Chad and the Austin team kept us informed from start to finish. They were very forthcoming with requirements, and what to expect throughout the process. They made the process a breeze!










I had gone through two other loan officers that didn't know enough about VA loans before coming to Veterans United. Veterans United's team of loan officers exemplified the highest level of professionalism and made a stressful process as seamless and easy and possible. I will be recommending Veterans United to every eligible veteran know. Thank you!

You're next!
Join the ranks of our 200,000+ Proud Veteran Homeowners nationwide.



The whole team was responsive and professional. I have recommended them to numerous people.


I'm just really thankful to have worked with Chad and the team. I suspect any other lender wouldn't have been as helpful. This has been an amazing experience for my daughter and I.


Everything worked out as planned and on schedule and everyone was awesome and always answered any issue that arose for me.

Thanks Chad, Kelly, Ryan, and everyone else. I will be certain to share my experience with VUHL with others!